1988
The story began in 1988 in a basement at Ringvägen 156, Stockholm (Södermalm).
The two decorators and artists Maija Tahko and Kicki Flodén made decorative materials to a large department store in Stockholm. It was mainly the Christmas decorations that they worked with. The Christmas decorations was of course tomtar (gnomes). It was immediately apparent that there was a demand to buy the tomtar that were included in the signage. Production and sale of the gnomes of various sizes began.
1993
To reach customers in a better way they needed a new premises. After much searching they found a small premises at 12 Köpmangatan (Merchant Street) in the old town. Köpmangatan is between stortorget (Market Square) and St. Göran and the dragon. The shop was very small, there were no windows (except for a window in the door). The sale went very well, even though it was hard to find the shop and it was small. Larger premises was needed.
1995
A premises in the Old Town was vacant (Österlånggatan 45). They decided to move the business to the new address. This was a very successful move. The address quickly became known. Many tourists and Stockholm citizens found the unique shop in the old town, even guided tours went into the store to see the craft. For many, it became a tradition to visit the shop at least once a year.
Foreign TV crews were filming at the store and many foreign newspapers wrote feature articles. The international breakthrough was a fact. A small but global company. An Internet shop was established to meet the demand from all over the world. Some very famous world artists have visited the store and now have on of our tomte (gnome) or troll at home.
The first website was created by Klas Flodén (son of one of the founders, Kicki Flodén).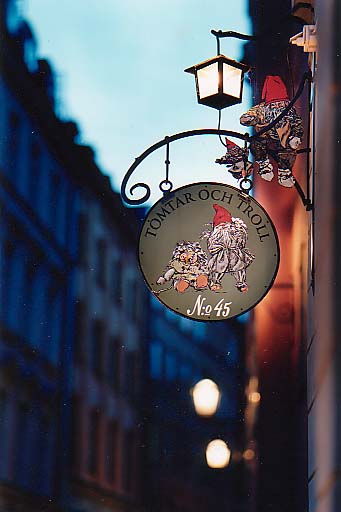 (on the picture, sign that hung on Österlånggatan 45)
2010
We joined facbook. http://www.facebook.com/tomtartroll
2013
During several years the shop was located at Södra Benickebrinken 4 (South Benickebrinken) in the old town.
2015
Nowadays, one reseller is located in the old town of Stockholm Tyska Brinken 20 , it's very close to The German church. So that is the new place to find our products. Production takes place in Nacka (outskirts of Stockholm, Sweden).